Croatian gymnast Tin Srbić has won the title of world champion in the horizontal bar at the World Gymnastics Championships in Montreal, which is the biggest success in the history of Croatian gymnastics!
The twenty one year old member of the Hrvatski Sokol club finished his exercise in the qualifications for a score of 14.366, while in the final he improved on his score to 14.433, which convincingly gave him the gold medal ahead of Epke Zonderland from the Netherlands (14.233) and his countryman Bart Derlooa (14.200).  
The member of the Hrvatski Sokol club from Zagreb also left European champion Pablo Braegger of Switzerland behind him as well as a number of much more experienced competitors, pulling off a big surprise on the horizontal bar.
At World Championships, until now Croatian gymnasts have only won one medal, that of Mario Možnik, who in 2014 won bronze, also on the horizontal bar.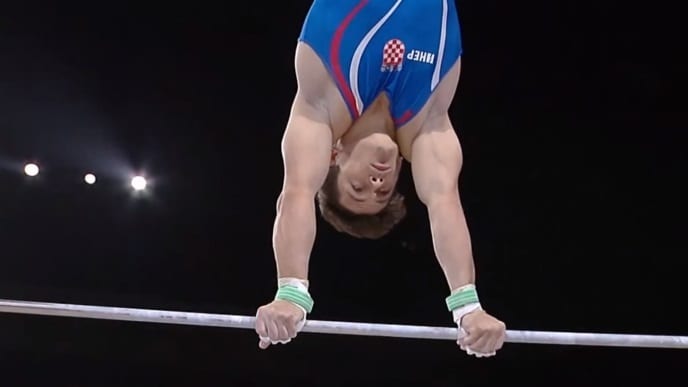 Results of the horizontal bar final:
1.  Tin Srbić (CRO)           14.433 
2.  Epke Zonderland (NED) 14.233
3.  Bart Deurloo (NED)    14.200
4.  Pablo Braegger (SUI)  13.733
5.  Hidetaka Miyachi (JPN)      13.733
6.  David Beljavskij (RUS)     13.533
7.  Randy Leru (CUB)             13.100
8.  Oliver Hegi (SUI)     12.733
Source:HRT