Croatian Radio Television is marked 27 years since the death of Gordan Lederer. Gordan Lederer was killed by a Serbian sniper near Hrvatska Kostajnica in 1991 during the Homeland War.
In memory of his cameraman, Croatian Radio Television head director, Kazimir Bačić laid a wreath and lit a candle at the Broken Landscape monument at the location where Gordan Lederer was killed, on the Čukur Mountain near Hrvatska Kostajnica. He lost his life while filming Croatia soldiers in action during a Serbian attack on Pounje.
Attending the commemoration were Croatian Veterans Minister Tomo Medved, a representative of the Croatian president, retired Colonel Drago Horvat and representatives of local government.
On August 10th, 1991, while filming Croatian defenders in action on the Ćukur mountain above Hrvatska Kostajnica, Croatian Television cameraman Gordan Lederer was killed. He was killed by a bullet from a sniper while conducting his job during the time of a signed ceasefire.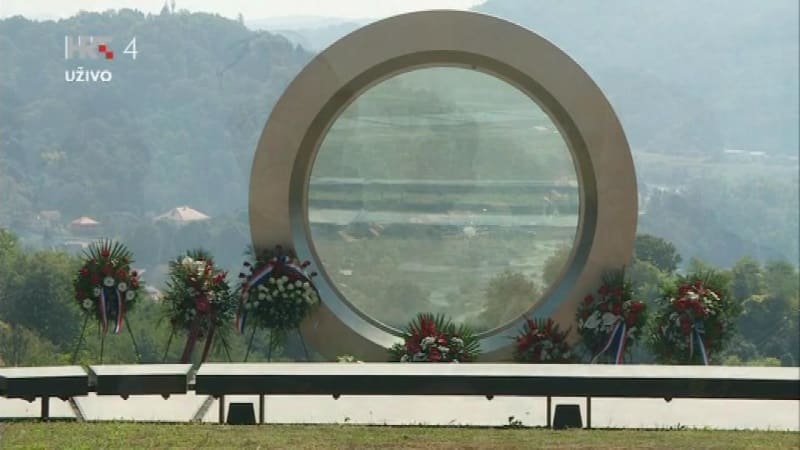 Soldiers carried the wounded Lederer to Hrvatska Kostajnica. Among them was a member of the first Tigers brigade, Croatian veterans Minister Tomo Medved. "We took care to keep him protected at all times as much as possible, but he truly wanted to capture the most striking scenes, to seek the best position to carry the truth to the public as thoroughly as possible. Unfortunately at this place it happened, he was in the open and the enemy fired on him from the graveyard and wounded him severely," said Medved.
For lack of other assistance, the soldiers gave him blood on the terrain. Biserka Brašić is a mother of one of the soldiers, the President of the Association of Parents of Fallen Soldiers from Zaprešić. "Today I came here purposefully, something pushed me, because my Mario gave blood to Gordan from vein to vein. We he came home he said "Mother, Rašeta wouldn't give a helicopter and he wasn't saved. Somehow I would like to greet Gordan today, because the blood of my child was inside him," said Biserka Brašić.  
The final footage Lederer took was posthumously edited into a film which is one of the most impressive memories of the Homeland War. The Broken Landscape monument stands at the location of Lederer's death today, erected at the initiative of Croatian Radio Television and the city of Hrvatska Kostajnica.
Source: HRT