For many the Dinamo Zagreb–Red Star Belgrade riot marks the beginning of the Serbian aggression against Croatia and Croatia's fight for independence in the Homeland War.
On May13th 1990 a league game between Dinamo Zagreb and Red Star Belgrade was scheduled to be played at Zagreb's Maksimir Stadium. The game however was never played as some 3,000 Red Star fans (Delije) not only trashed the city hours before the game was scheduled to start, they then proceeded to destroy the southern section of the stadium, seating reserved for visiting fans.
The Belgrade hooligans were led by a then relatively unknown Željko Ražnatović-Arkan, who would later be found guilty of war crimes during the Serbian aggression against Croatia. After trashing the stands the Delije broke through the divider separating home team and visiting team fans, and began attacking the spectators with torn off seats and knives, while chanting, "Zagreb is Serbian" and "We'll kill Tuđman." With the Yugoslav Police refusing to intervene, Dinamo's Bad Blue Boys support group (BBB), broke through their enclosure and stormed the pitch. The Yugoslav police then decided to intervene and began viciously beating BBB fans with batons, while tear gas and a water cannon were also used.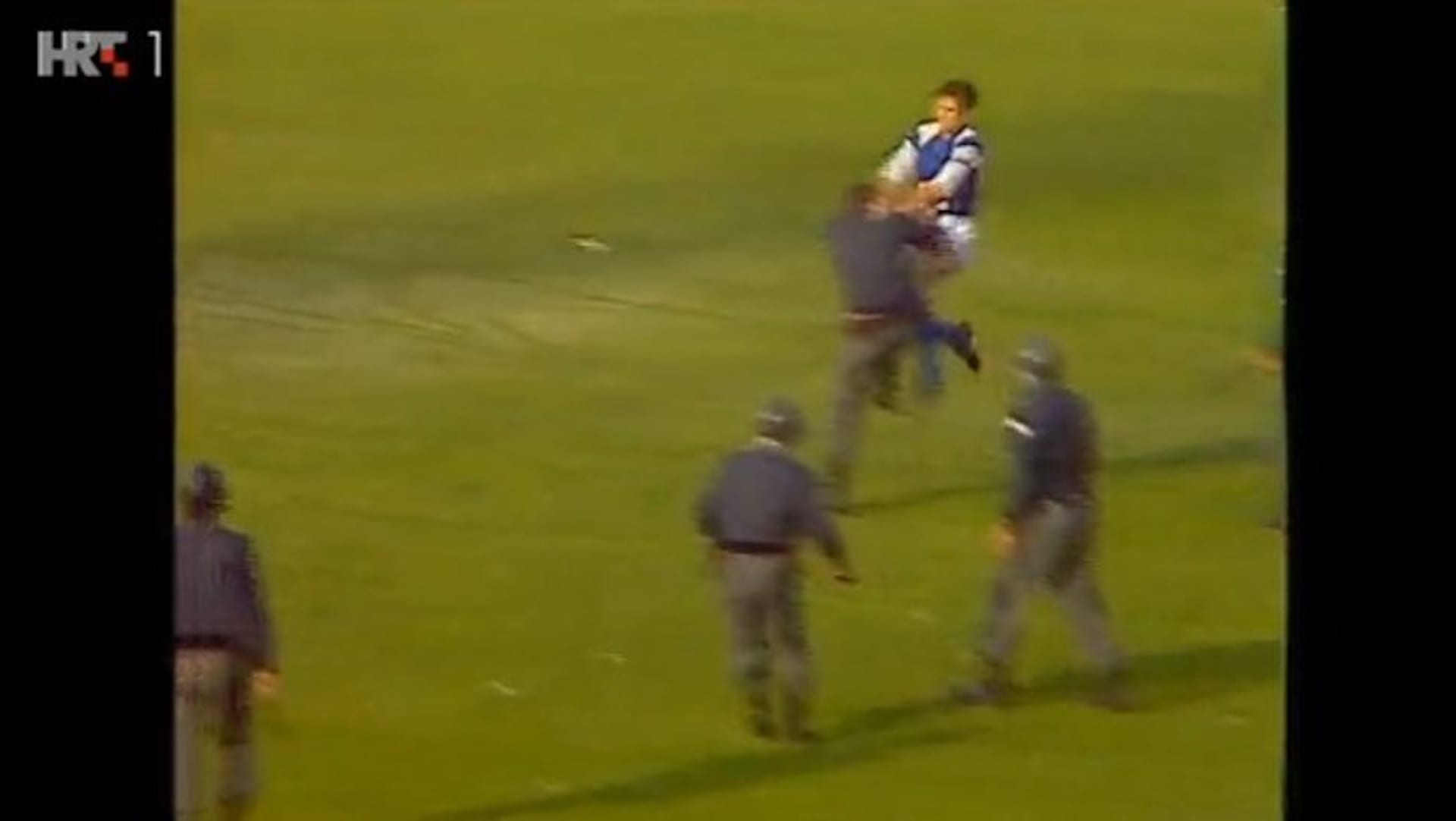 Red Star players and some of Dinamo's team, who had been on the pitch to warm-up for the game, had escaped to their respective dressing rooms, however, several Dinamo players remained on the field, including team Captain Zvonimir Boban, who, while defending BBB fans from police attacks, was himself attacked by a Yugoslav policeman. In the ensuring mêlée, Boban jumped and kicked the police officer. The Bad Blue Boys came to Boban's defense, acting as bodyguards and escorting him off the pitch.
For his actions Boban was suspended by the Yugoslav Football Association for six months and had criminal charges filed against him. However, in Croatia he was proclaimed a national hero, with the kick coming to symbolize Croatia's fight for independence from the Serb-dominated Yugoslavia.
"Here I was, a public face prepared to risk his life, career, and everything that fame could have brought, all because of one ideal, one cause; the Croatian cause."
— Zvonimir Boban later commenting on the incident for CNN
The riot happened just weeks after Croatia's first multi-party, free and democratic elections in almost 50 years in which the parties favouring Croatian independence from communist Yugoslavia had won an overwhelming majority of the votes. In the second round of voting on May 6th Franjo Tuđman and his Croatian Democratic Union (HDZ) emerged as the clear election winners.
The riot resulted in over 60 people wounded, including some stabbed, shot or poisoned by tear gas.
Source: HRT