The Croatian Davis Cup team was welcomed home today at the Ban Jelačić square in Zagreb. The world champions arrived at the Franjo Tuđman airport from Paris at 14:30. They were greeted by firemen who sprayed the plane with their water cannons, the Zagreb Majorettes and a red carpet was prepared.
The first to exit the place were coach Krajan, the President of the Croatian Tennis Federation Nikolina Babić and Marin Čilić carrying the Croatian flag and a small Davis Cup winner's trophy.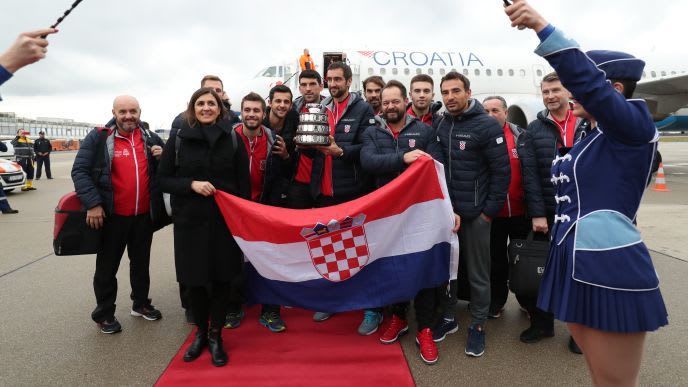 The Croatian tennis team was immediately transported by special bus to the Ban Jelačić square where the main celebration was held.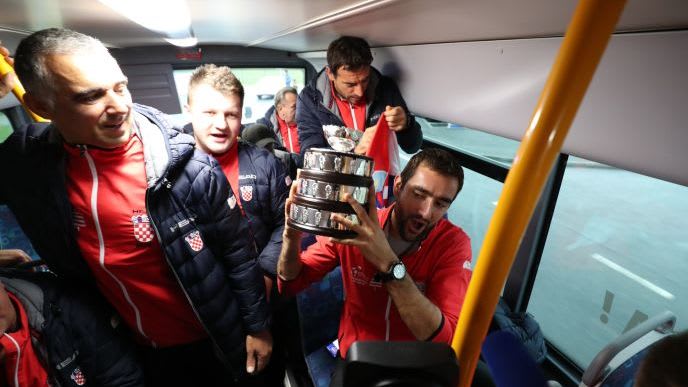 Citizens at the Ban Jelačić square could watch the Croatian players exit the plane, board the bus and watch them on route to the square on the video wall. Clips from Davis Cup matches were also shown on the video wall.
Performing at the event were the Zaprešić Boys and Prljavo Kazalište, while Mirko Fodor was the master of ceremonies.  
In France the Croatian Davis Cup team defeated their hosts by a score of 3:1. The decisive match was between Lucas Pouille and Marin Čilić who won in straight sets 7:6(3), 6:3, 6:3. Čilić brought Croatia into the group of ten countries that have won the oldest team tennis competition more than once. The Davis Cup in this format has gone into history and Croatia will be remembered as the final winner.
Source: HRT