At midnight the deadline expires for potential presidential candidates to submit their candidacies, with a minimum of 10 000 collected voters' signatures, to the State Election Commission.
Today President Kolinda Grabar-Kitarović submitted her candidacy arriving in parliament in the company of the Croatian Democratic Union leadership and along with party president and Prime Minister Andrej Plenković.
President Grabar-Kitarović collected more than 200 000 signatures in support of her bid for a second mandate.
"We gathered 231 652 signatures. I'd like to take the opportunity to thank all of those that gave their signature, whether they are members of the Croatian Democratic Union, sympathizers or Croatian citizens. Naturally I thank the party for the candidacy as well as other parties that have supported me," said the President.
Prior to President Grabar-Kitarović, Miroslav Škoro submitted his candidacy with more than 70 000 signatures. He called on voters to come out for the election and to break the dual party fear that we are now living in.
"I call on all to break this fear already in the first round on December 22nd. We don't have time for a second round or any additional experiments. After that I call upon the government, considering the fact that Mrs. Grabar-Kitarović will lose this election, to resign, for parliament to be dissolved and to turn a new leaf in Croatian democracy," said Škoro.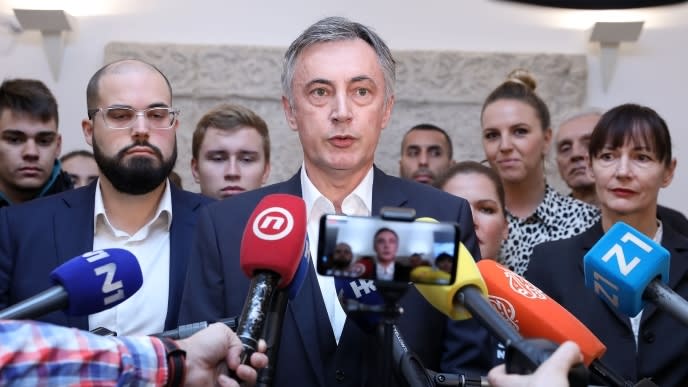 Škoro commented on a statement by President Grabar-Kitarović in which she said that if Zagreb Mayor Milan Bandić is convicted she will bring him pastries in prison.
"We have to enable Mrs. Grabar-Kitarović to become a regular citizen on December 22nd and to bring pastries to whoever she wants, but as the president I don't think that is alright," said Škoro.
Asked if she was joking with her statement about pastries, president Grabar-Kitarović gave a short explanation.
"I said what needs to stand in every democratic society, that every person is innocent until proven guilty with a final court conviction," said President Grabar-Kitarović.
So far candidacies have already been submitted by Zoran Milanović, Mislav Kolakušić, Nedjeljko Babić, Dejan Kovač and Anto Đapić.
The state election commission is accepting candidacies until midnight.
Source: HRT