The European Commissioner for Budget and Human Resources was received by the Croatian President, Prime Minister and a number of cabinet ministers in Zagreb, with whom he discussed financing priorities in the coming budget period after 2020.
During his meeting with the European Commissioner for Budget and Human Resources, Günther Oettinger, Prime Minister Andrej Plenković emphasized that funds for cohesion policy, agriculture, the balanced regional development of EU and Croatian regions, migration policy, education, security, research, defense, the digital economy, the digital society and youth, are of special importance for Croatia. Joining the commissioner and prime minister in the meeting were Deputy Prime Minister and Economy Minister Martina Dalić, Foreign and European Affairs Minister Marija Pejčinović Burić, EU Funds and Regional Development Minister Gabrijela Žalac and Finance Minister Zdravko Marić.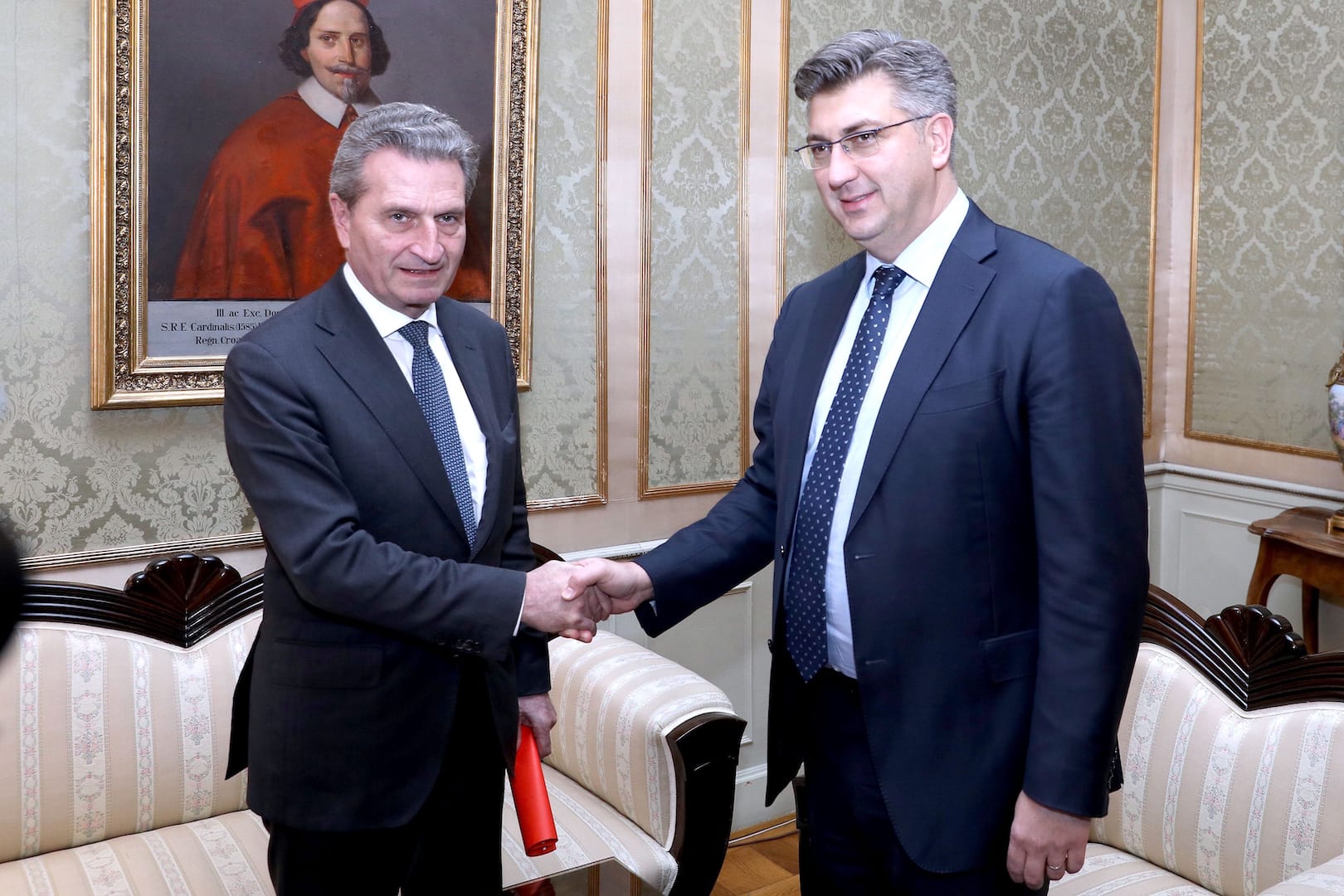 Commissioner Oettinger commented on the recent report from the EC, which states that Croatia lacks resolve in implementing key structural reforms. The commissioner suggested that delays in implementing reforms in Croatia should not come as a surprise given the Agrokor crisis and the fact that in a short number of years it had changed a series of governments. "When we look into the future, in 2018 and 2019, we can say that the purpose of the commission's report is to support and advise the Croatian Government. From the Croatian side there exists a readiness to accept those recommendations," Oettinger said.
Speaking after the meeting Finance Minister Marić said that over the next seven-year period Croatia will continue to focus on cohesion policy, adding that issues of importance to Croatia include migration, security, investment into small, medium and large business, youth, demographics and regional development. "You can be sure that we will defend these priorities," the Croatian Finance Minister concluded.
After meeting with Commissioner Oettinger, President Kolinda Grabar-Kitarović emphasized that Croatia's priorities are economic growth and ensuring a better future for Croatian youth. She also noted the importance of joining the Schengen border regime, ensuring more efficient managing of migrants and better controls over borders. The president concluded that the future budget must also set aside funds for further EU enlargement and that in that process it is important to reach an agreement in the spirit of solidarity, cooperation and compromise.
Source: HRT