In the Sisak-Moslavina County, the priority remains setting up containers and mobile homes for the victims of the December 29th earthquake. So far, more than 700 temporary housing units have been erected, with roughly 890 more still needed.
After works on the Petrinja container settlement, which will include 100 housing units and another 50 units for a business center, were stopped indefinitely, Petrinja Mayor Darinko Dumbović and the Earthquake Reconstruction Directorate have agreed to restart works on the settlement.
"Someone has to stand behind this project, and I have agreed that the city be the investor. Obviously with the help of the Croatian Government which they have promised me," Mayor Dumbović said.
The earthquake also affected the villages of Hrvatska Kostajnica and Čukur in the southeast of Banovina. Of the 600 buildings damaged in the quake, more than half have been inspected, while some 400 roofs and chimneys have already been repaired. However, the situation is being further aggravated by minor landslides occurring after the earthquake. The mayor of Hrvatska Kostajnica, Dalibor Biščan: "The experts told me that due to the improper construction of foundations the compacted ground underneath the buildings has moved. Those segments should have been built with reinforced concrete slabs. These rains and the constant tremors has resulted in the ground sinking, so we're monitoring it continuously."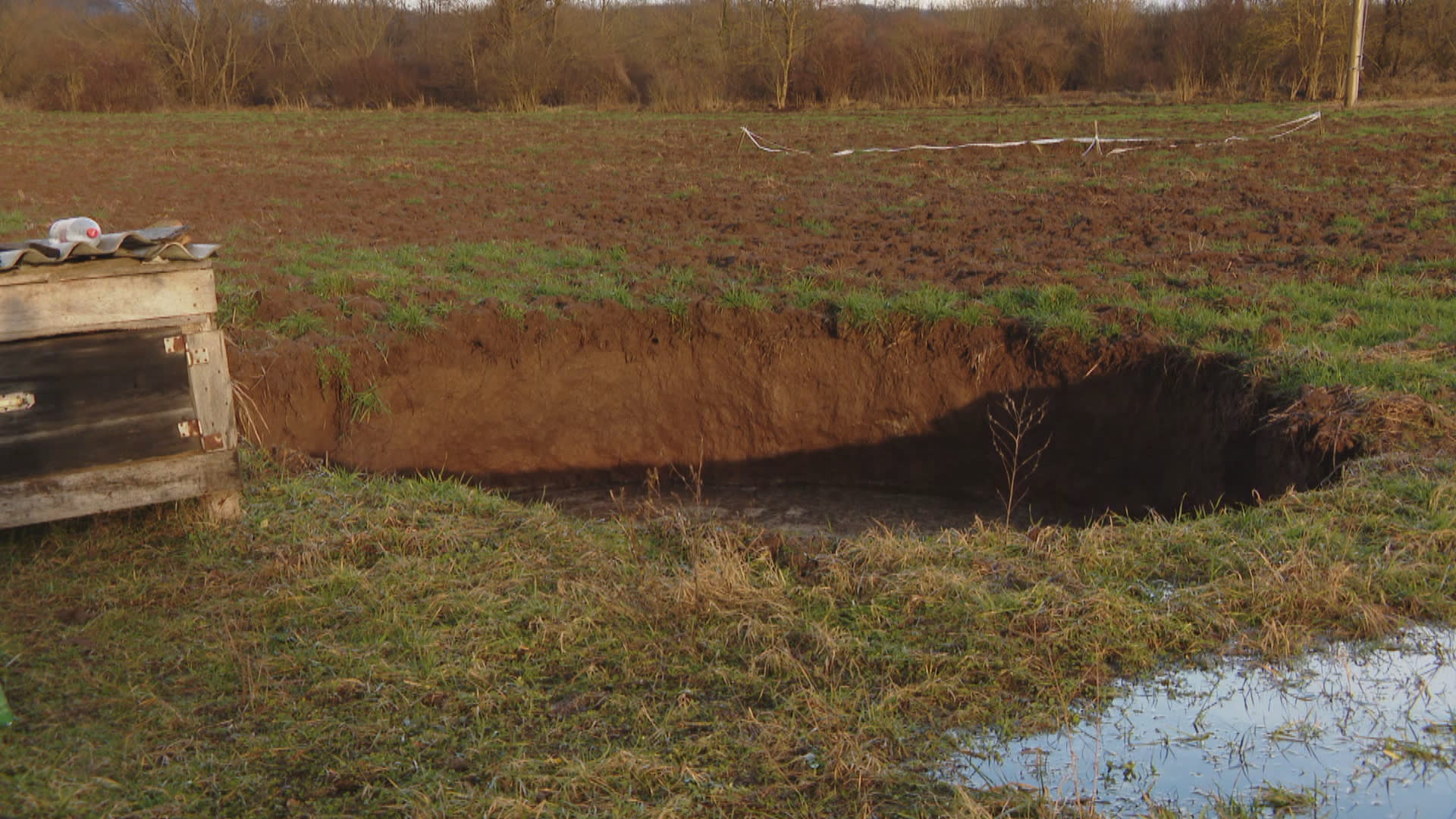 Meanwhile, the residents of Mečenčani, a village to the south of Petrinja, are worried about the continued forming of new sinkholes in the area. The first appeared immediately after the earthquake and continue to expand, while new sinkholes are popping up every day. Locals are waiting for experts to provide more information as to what is causing this phenomenon. Mečenčani resident Đuro Vukić: "They used to be small, not this big. There was one over here and another down there. I filled them in and ploughed them over. No one knows what they are, but they're appearing everywhere around us."
In Zagreb, citizens continue to report earthquake damage on a daily basis. Today, a chimney weighing five tons was removed from a building in the city center. Authorities are closing off sections of the city as workers remove those segments of damaged buildings that pose a threat to the safety of citizens. Zagreb Fire Chief Siniša Jembrih: "We're primarily dealing with chimneys, there are some other parts of buildings, such as ornamental sculptures, which now represent a threat to citizens. But chimneys definitely represent the biggest material damage and biggest threat to citizens."
Source: HRT