Croatia is celebrating its second Easter under the coronavirus pandemic. Masses were held with strict adherence to epidemiological measures. Where it was possible masses were held outdoors.
Due to the effects of the earthquake, the main celebration of the Eucharist was held in Marija Bistrica instead of the Zagreb Cathedral.
"Easter brings new hope, joy and strength in difficult times," was the message of Croatian bishops who, among other things, called for responsible and prudent behavior.
Zagreb Archbishop Cardinal Josip Bozanić led the mass at the National Marian Shrine in Marija Bistrica in the open.  "Jesus' resurrection is not an individual event that only belongs to the past, resurrection opens the future for us and the entire world," said Cardinal Bozanić and once again called for prudence and responsibility in behavior during the pandemic.
"We are called with new energy to turn our eyes to heaven. We pray to the good Lord, with his mercy, to soften the suffering of the sick, to give strength to those that care for them, and eternal rest and fullness of redemption for our dear deceased," said Cardinal Bozanić.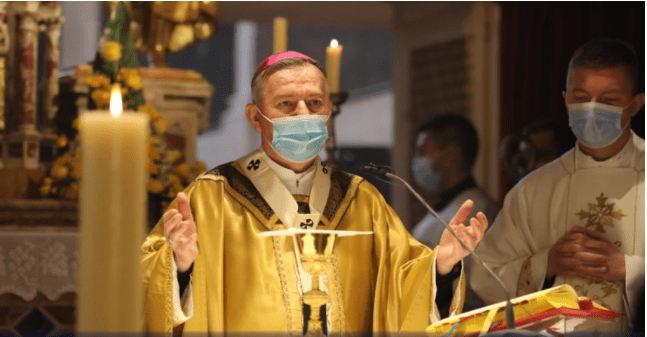 "The human hand with its wickedness captured and sentenced Jesus to death, sealed his grave and declared the case of Jesus of Nazareth a lockdown," said Split-Makarska Archbishop Marin Barišić, leading celebration of mass at the Cathedral of St. Domnius. He added that the almighty hand of God broke that lock.
"We pray to him who opened the lock on the grave and opened the blindness of the heart, so that we also resurrect with him to a new life, for us to be conscious and responsible believers," said Barišić.  
"Today we gathered not only to thank God, but to ask him to strengthen our faith," said Zadar Archbishop Želimir Puljić when leading mass at the Cathedral of St. Anastasia in Zadar.
"For us to be witnesses, in the work place and in our families, and wherever need be, to testify of he who resurrected and defeated death, defeated sin, saved us and redeemed us," said Puljić.
"Jesus resurrection is good news, because it heralds a new world in which there will no longer be injustice, violence, and pressuring the poor and weak," said Rijeka Archbishop Ivan Devčić, from the Cathedral of St. Vitus in Rijeka.
"In our lives that are also full of fears, anxieties, uncertainties, and hopelessness, especially in this time of Corona, and other misfortunes such as earthquakes, he tells us the same, "Peace be to you"," said Devčić.
Where it was possible masses were held outside, and numerous diocese secured live video streams over social networks.
Source: HRT