On Christmas Eve fish is traditionally eaten and free portions are handed out in many places throughout the country. In Split, portions of cod stew were handed out at the Prokurative square.
Five thousand portions were prepared by the best known head chefs from Mediterranean and European regions.
"It has been simmering since 6am, potatoes came about half an hour ago and they are inside, there is a lot of cod. We joke around saying that it smells of cod. First we put 40 litres of oil into the pot, just to cover the bottom, at the end we'll add a bit of chickpeas to add to quantity and it contributes to texture," said Chef Željko Neven Bremec revealing the contents of a pot measuring two metres in diameter.
Besides cod stew citizens of Split could also receive portions of fritters prepared by chefs from Split hotels.
The atmosphere was complimented with song from the Filip Dević Cultural Arts Association.
The event titled "To Split with Love" was organized by the city, county, chefs from the Association of Chefs from Mediterranean and European Regions with the help of hundreds of volunteers from schools and associations in Split.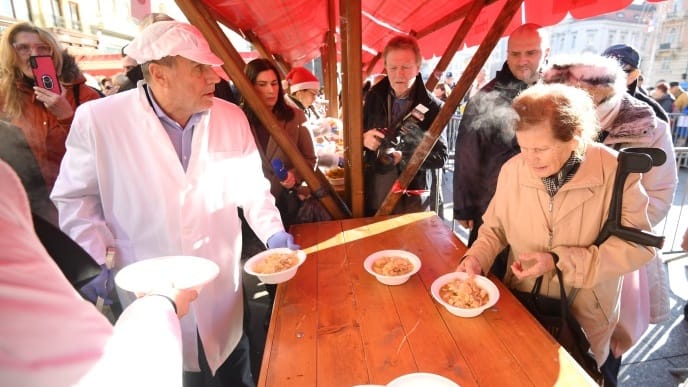 At the traditional Christmas Eve gathering at Zagreb's central Ban Jelačić Square, Zagreb Mayor Milan Bandić and his associates, for a fifth year in a row, handed out 10 000 portions of cod stew to citizens that was prepared by workers from the Dobri Dom Grada Zagreba institution.
"This is a tradition each year for Christmas Eve, to share our satisfaction with citizens at the Ban Jelačič square. Regardless if there are those who have money for cod or not, it is nice to maintain the tradition and come to the Ban Jelačić square, socialize and have some cod," said Mayor Milan Bandić.
Source: HRT