Koprivnica, the northeasterly town near the Hungarian border, recently celebrated the completion of their 25th Winter School of Croatian Folklore.
The event, which brought together members of folklore and tambura clubs and fans of the genre from around Croatia and the whole world, attracted some eighty participants from North America, Australia, and several European countries to practice and preserve the folklore heritage from the Croatian Adriatic. In this week's magazine, we take a look at the Winter School of Croatian Folklore in a piece originally put together by the Voice of Croatia's Sanja Kos-Bojanić and Antonija Tomičić. 
Antonio Grgurović, from the Bay of Kotor in Montenegro, came to the Winter School of Croatian Folklore with his colleague Bojana Radonić. Since both are experienced dancers in the Croatian folklore ensemble in their region, this year they opted to join the dance group at the school and learn some new skills.
"We think this is very beautiful, especially since this year's event is based exclusively on dances from Dalmatia, which isn't necessarily part of our everyday dance repertoire. I think that we'll learn a lot by being here," said Antonio.  
"I will definitely learn a lot about the dances from the Adriatic region because I don't have too much experience in this area. I'll take back what I've learned in order to teach the new generations in Melbourne about these particular steps and social dances from Dalmatia and across the Adriatic," said another international guest dancer at the winter school, Robert Pavlić, the leader of the Croatian Dawn dance ensemble from Melbourne, Australia.  
Sidney Skjerstad is a student who made her way down to Croatia from Norway. She is very proud of her Croatian heritage so, for her, participating in the winter school meant a lot to her and her identity. 
"I know this is an old tradition. And this is an excellent way for me to reconnect with my heritage and, in a way, get back some of my personal identity that I've lost over the years," she said.  
And while the dancers diligently put in their time to learn the steps to the traditional Dalmatian dances, many talented musicians were also on hand to gain knowledge and experience playing the instruments that are an integral part of Croatian folklore. One of the youngest participants, twelve-year-old Ivan Papar, travelled to Koprivnica from the sunny Adriatic island of Rab. And while young Ivan is already a dancer in the San Marino folklore ensemble back on this home island, it was his grandfather who encouraged him to learn to play the mijeh a traditional Dalmatian instrument similar to the Scottish bagpipe.  
"I'm learning to play the mijeh because my colleagues and I back on Rab dance and give performances to the music from that instrument," said an enthusiastic Ivan.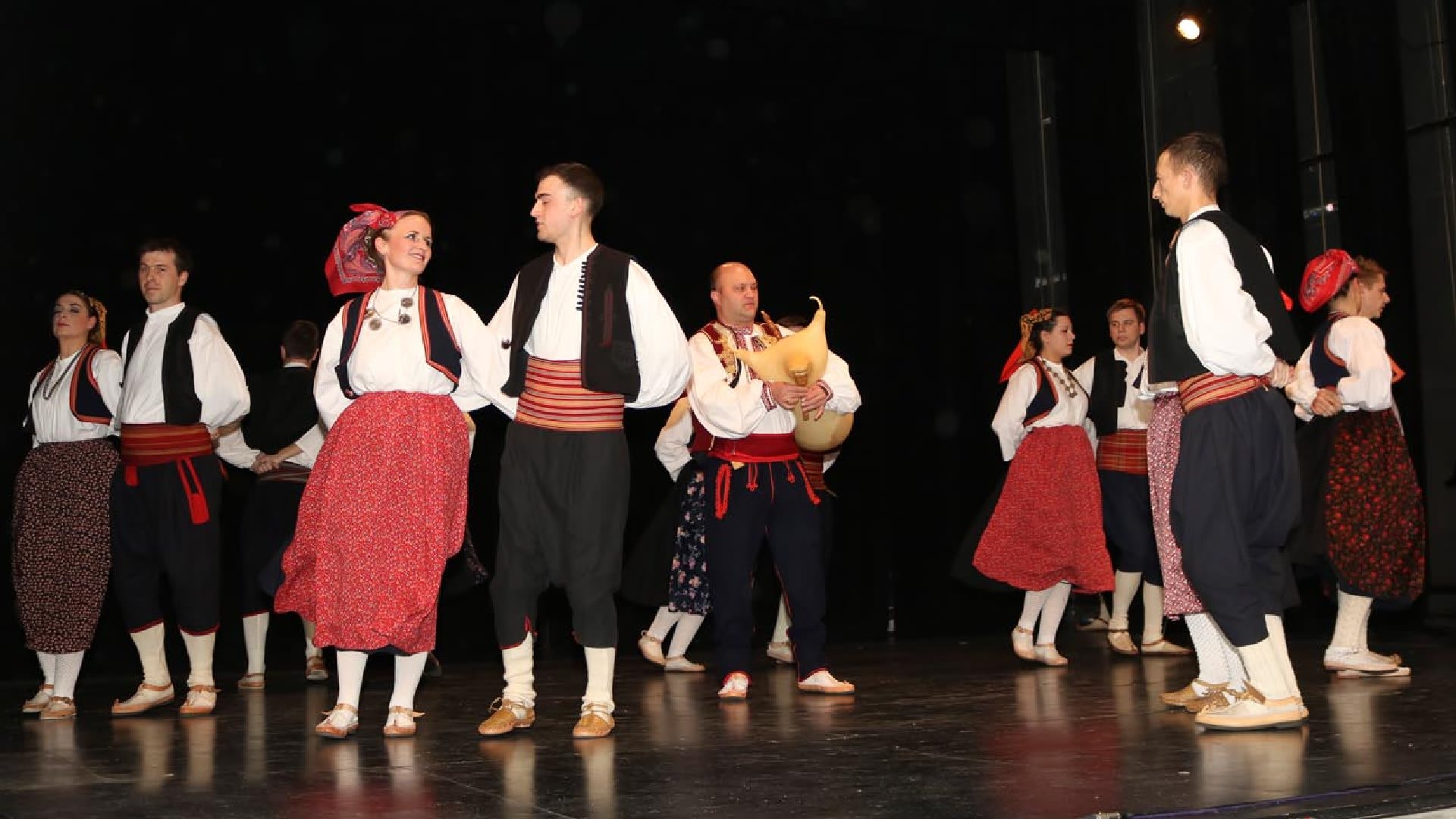 Meanwhile, Branislav Mikulić is the oldest student at the Winter School of Croatian Folklore and came to Koprivnica from Sarajevo. 
"I'm actually a writer. I write novels and short stories. I came here to learn how to play a traditional instrument so that during breaks in presenting my literary works, I can introduce my readers to Croatian music and culture," he explained. 
Ann Lebar is from far off Milwaukee, Wisconsin, in the USA. And despite the distance, Ann is a regular participant at the winter school. She spent over five years leaning folklore dances from all four Croatian geographic areas. But this year, Ann will further enrich her folklore repertoire by learning to play traditional music. But most importantly for her, it's a perfect way to connect with like-minded people from around the world and share in this common passion. 
"The folklore school brings people together. Over the past six years, I've made a lot of friends. I've been invited to countless weddings, we are all really good friends," said Ann.
The musical component of the winter school continues to be a big draw for tambura players and lovers of Croatian traditional music from outside of Croatia. Tibor Bün, the leader of the school's musical component explains: "Here we teach them a methodical approach to playing. We provide a thorough educational approach for new players; with young people, in particular, not necessarily only with children, but it's important for them to be young. This year we are focusing on the areas of the Adriatic, where the tambura was not only a big part of their history, but it's still something that's very much played today."
The incredibly complex and professional program was designed and set up some 55 years ago by Ivan Ivančan, one of the most famous Croatian ethnologists and choreographers. Today, the groundwork laid by Ivančan continues and new features have been successfully incorporated into an enhanced program drawn up by another member of the Ivančan family, Andrija.
"We are trying to prevent a small part of our ancestors' past from being forgotten forever. It may sound funny but it's a fact. We are really trying hard to transfer this knowledge to the younger generations. And if you look at these people behind me now, and consider the many others who attended this school in the past and who were unable to attend this year, we are happy to say we are no longer concerned for the survival of the traditional culture in Croatia," said Andrija.
The Winter School of Croatian Folklore is organized by the Croatian Heritage Foundation. On hand to make sure everyone is comfortable and has exactly what they need is Snježana Jurišić.  
"The Croatian Heritage Foundation is aware of the importance of Croatian traditional culture in preserving Croatian identity in our diaspora communities. The folklore school was founded 55 years ago with the aim of preserving Croatian traditional culture, and since the heritage foundation is concerned with strengthening the relationship with our diaspora communities around the world, we recognized the special importance of this program and decided to become actively involved," explained Snježana.
The theme of this year's winter school, as we stated earlier, was the cultural heritage of the Adriatic zone. Over the next three years, students will get the opportunity to explore and learn about the Dinaric, Alpine and Pannonian ethnic zones.
The Winter School of Croatian Folklore, which has been held in Koprivnica for the past several years at the beginning of January, brought together about eighty participants from all over the world; from America, Australia and across Europe. In this way, those participants will be taking back the priceless experiences and knowledge about Croatian cultural heritage to the furthest reaches of the world.