The "Tastes of the Croatian Village" culinary event was hosted by the village of Sveti Petar u Šumi in central Istra at the end of August. The event presented to guests domestic producers of sausage and other cured meats, with a focus on local flavors and traditional methods of preparation. Also in focus was the importance these producers place on cooperation with other producers, such as producers of Samobor sausages, Croats and Hungarians from the Lemeški Kulen Association in Vojvodina, or the Đakovački Kulin culinary association, who were on hand for this festival of sausage.
In order to promote traditional Croatian products, and to the delight of locals and tourists, a summer night festival titled "Tastes of the Croatian Village" was organized in the municipality of Sveti Petar u Šumi, bringing together some fifty exhibitors from Slavonia to Istra. The head of the municipality and event organizer Mario Bratulić: "This is the best proof of how we should promote our best products. I believe that next year, in cooperation with our neighboring and always friendly municipalities of Tinjan and Žminj, we will make a program that could last all summer long and thus, in cooperation with our the Tourist Board for central Istra, contribute to the promotion of the best Istrian and Croatian products so that ultimately they end up in grocery baskets throughout Europe."
Among the traditional products Bratulić particularly emphasized the excellent cooperation with Croatian and Hungarian producers of dried meat products in the Autonomous Province of Vojvodina in neighboring Serbia: "We enjoy excellent cooperation with three associations in Vojvodina and we have excellent cooperation with the association of Croats in Pécs Hungary. I recently talked with contacts in Germany, and as a group we recently helped initiate the first festival of sausage in Tomislavgrad in neighboring Bosnia and Herzegovina. Our mission is to establish cooperation, to connect and network, to promote traditional sausage producers everywhere. Our goal for next year is organize a massive promotion for Croats in Berlin and Switzerland. And if everything goes OK and regulations permit, to connect with Croats in the United States of America."
One of Croatia's most recognizable traditional products is certainly Istrian pršut or cured ham. But there is also the traditional Istrian sausage. "Istrian sausage or 'klobasica' as we call it, is currently in the process of receiving a certificate indicating protection of geographical origin. One of our team is participating in this project and I think everything will be ready for certification very soon, but what I am looking forward to is that more and more producers are showing interest in this every day, and that there are producers who will be ready to market their products on the European market, probably not this year, but most likely next year," Bratulić said.
The event in Sveti Petar u Šumi gathered numerous exhibitors, in fact plans are underway to open a Sausage House there next year. Agriculture Minister Marija Vučković was on hand this year and met with Croatian producers: "I think this is a shining example of the right way to preserve traditions and just how important it is to that, but we can't stop here, we have to learn about new technologies, we must apply innovations, use new programs, measures and continue to move forward. To ensure that they are compatible and can jointly further our development, and this is exemplified by many Istrian products." Minister Vučković also encouraged the producers to participate in all of the ministry's tenders: "The Agriculture Ministry is making significant efforts in order to ensure the renewal of Croatian agriculture. We are not satisfied with the current situation, but I would like to tell you that we have special measures for young farmers, young farmers who are assuming the reigns of their family run farms. These measures are being used ever more frequently. Currently we have 13.1 percent of young Croatian farmers running family owned farms. And while that's not enough, it is interesting to note that this is twice the European Union average."
Bogdan Komparić, whose Kampari Company has been producing cured meat products for 20 years now, was also on hand to present his wares: "We produce all manner of cured meat and we are expanding our range of product to include long lasting Istrian pršut, pancetta, ombulo, sausages, with and without truffles, and many others. And now we are in the process of launching our new honey sausage. We are always striving to get better and better. The secret is in ensuring you have high quality meat, excellent wine and good garlic, and when all of that is mixed together the end result has to be good."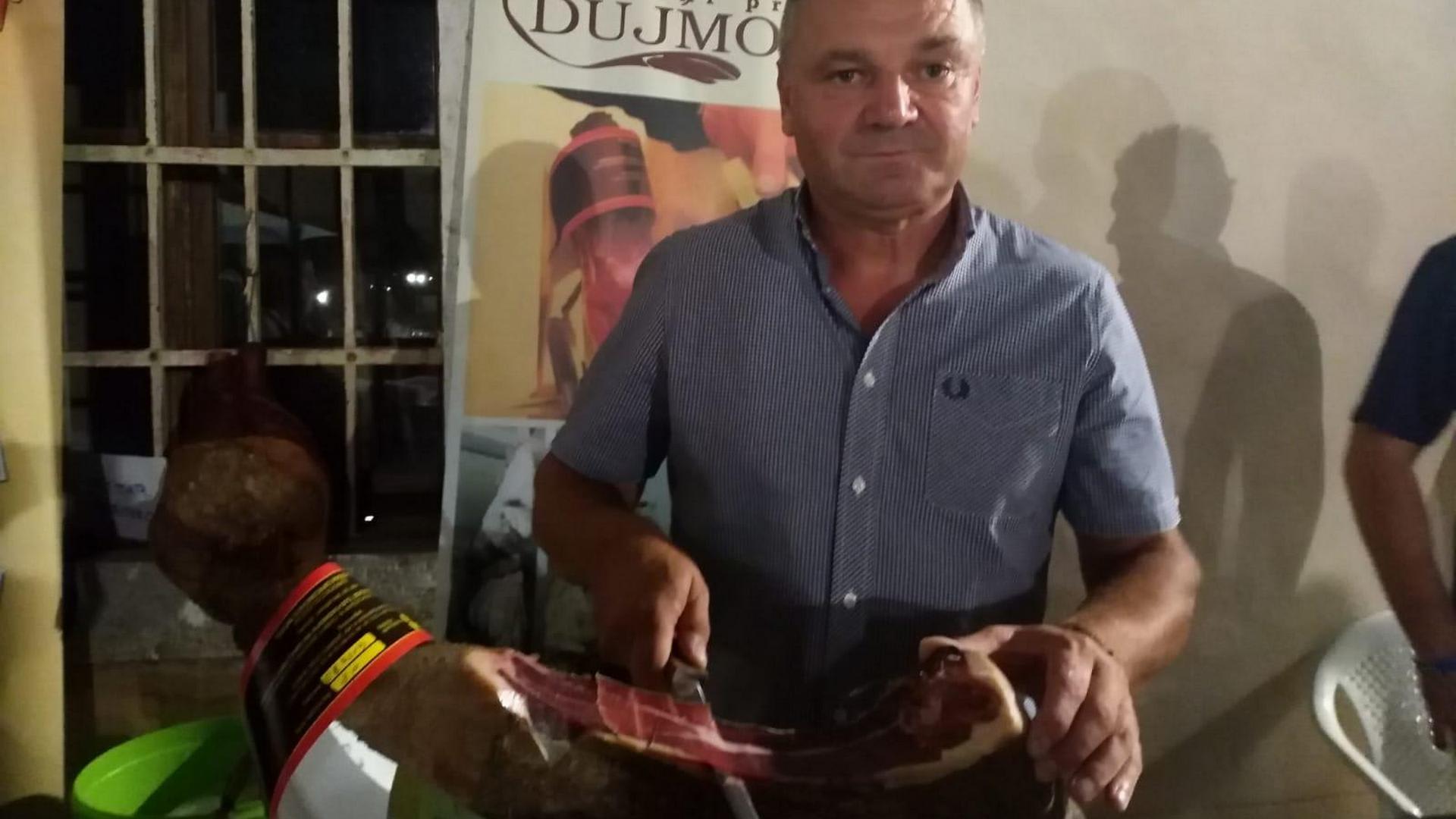 Among the satisfied visitors of the Tastes of the Croatian Village event was Sandra Marinić, who has lived in Paris for the past 12 years. She notes however, that she would never trade Croatian flavors for French: "What do I like? I like these Istrian products, they are beautiful and I am in love with them. I am very drawn to these Istrian products, which is why I come. Partly because of the music, but mostly because of the sausage, pršut and so on. That's why all of these products go with me to Paris! (laughs) When I come here, usually about half of my suitcase is stuffed with Istrian sausage, pršut, and other delicacies. Sometimes I take a small bottle of rakija with me because my French friends love it a lot. I also take some wine, it all goes into the suitcase! It all comes with me."
Given the aromas and flavors of homemade Istrian sausage, pršut, olive oil and homemade rakija and wine, it is not surprising that many of the visitors return regularly for the event, regardless of where in the world they live. As Sandra points out, a little rakija for her friends in Paris is enough to convince them to spend their next summer vacation in Croatia. "Next year they're all coming. I think that's sufficient evidence that people are drawn to this kind of thing."
They're coming to experience the flavors and aromas only local Croatian products can provide!