Last month the United Nations marked International Intangible Heritage Day. This week we turn our attention to a tradition that is on Croatia's own list of intangible cultural heritage, Grgurevo, a tradition nurtured by the grape-growers and wine-makers of the Požega region.
For more than 300 years the residents of this region have been paying symbolic tribute to their ancestors, who managed to fend off the advancing Ottoman army. Every year on March 12, they take out their antique muskets, pistols, and cannons to perform a gun salute that symbolizes a 17th century victory by their ancestors over the Ottoman Turks.
"Grgurevo is a tradition by which we here in Požega mark a historic anniversary. In 1688 Croatians were fighting the Ottomans, who were considered the bad guys. Locals couldn't take their cruel methods and rose up against them under the leadership of father Luka Ibrišimović, a priest who organized the rebellion. This is how we celebrate that victory. The Turks were driven out and never returned to Slavonia again. Their rule over our region lasted 150 years and that was what ended it. In memory of that event, we celebrate in our vineyards, in our hills above the city, by firing muskets, pistols, and small cannons. The noise is how we celebrate that historic event," says local resident Vladimir Bauer, who has been taking part in these celebrations for more than 30 years.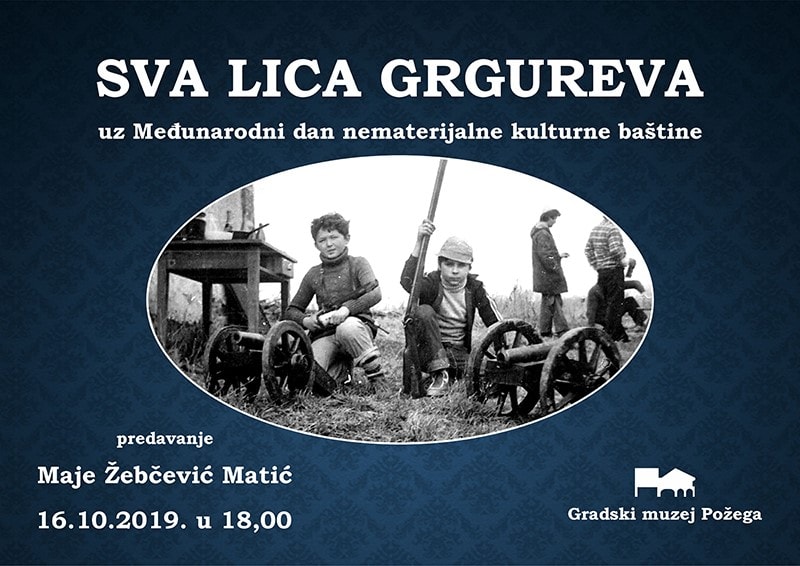 The tradition of Grgurevo has been protected as part of the intangible cultural heritage of the Republic of Croatia, and since 2000, it is also the day Požega celebrates its own day. Ahead of International Day of Intangible Cultural Heritage, curator Maja Žebčević Matić gave a lecture about Grgurevo at the Požega City Museum.
"We'd like to share this tradition not only with our local residents but with the rest of the country. Traditions shift and change over the years. Regardless of the fact that it is also the day we celebrate our town, it is good to reflect on the original meaning of the tradition and one of its core elements, which must not be forgotten. Besides the fact that it is a time to sing, dance, eat and drink in the vineyards, and perform the salute, at the core of the tradition is the feeling of pride. That feeling is conveyed to the many visitors who come here and there is enjoyment in this idea of fighting off the Turks. Not today's Turks, but the ones from 300 years ago, just to be clear! It is about the value of freedom, the feelings of joy and pride, and sharing these sentiments with friends and everyone around us," Žebčević Matić says.
Grugurevo has become a local tourist attraction in recent years, but there was a time when it was frowned upon by the authorities because of all the shooting. One local man was undeterred and persisted, firing his antique weapons on this day for 60 years.
"Miro Ivković, really stuck to this tradition. He lived in a residential part of town and made a lot of noise with his cannon, so he got into a quite a bit of trouble," Bauer says and that is why the tradition was moved from the streets to the countryside.
"We decided that, given our tradition of wine-making and grape-growing, it would be nicer to celebrate in our hillside vineyards, where the noise isn't an issue. In the pre-war years, we got into some trouble with the shooting. The police would come around, but we are a small town and we managed to win them over with some good food and wine. The idea was to move it out of town into the country, so people wouldn't be confused by the noise. It's not just one shot. It's serious gunfire," he says.
Noise certainly seems to be the defining characteristic of this tradition, but it is made a bit friendlier and more festive by the traditional singing that is part of the festivities. And of course, good food and wine help bring it all together.