Father Frano Miljenko Markić is a Croatian missionary who spent years teaching and mentoring believers and fellow missionaries at the Roman Catholic Diocese of Livingstone in Zambia. Today, Father Markić works as a special delegate for the diocese and continues to support several missions around the world. Maja Raguž met up with Father Markić to learn more about his fascinating life and his message for young missionaries ready to take up the call.
Father Markić is a popular figure among the faithful and foreign missionaries in Africa, especially in the Roman Catholic Diocese of Livingstone in Zambia. Tucked along the southern border with Zimbabwe, Livingstone covers an area of nearly 60 thousand square kilometers and has a population of just over 400 thousand. Few among the 70 thousand Catholics who live there haven't heard of the amicable old Croatian priest who's affectionately known simply by his nickname, 'Hallelujah' - his greeting of choice for all those he comes across.
I show people trust, said Father Markić, and that is the most important thing. Trust is the foundation on which to build lasting and meaningful relations with people, regardless of who they are or where they are in the world.
"When you earn their trust, then it's easy to work with them and to organize them. I made a team of about six men and women which helped put together lessons that we took around the diocese. At each location, we'd stay for about a week at the local parishes. They did the majority of the work, while I'd jump in if there was something they weren't aware of or something suspicious."
And while he made sure to say that he didn't run into any troubles while living in Zambia, perhaps his unwavering positive attitude had a lot to do with it. Father Markić was definitely not the first missionary to heed the call and spread the word in Africa, and he certainly won't be the last. Africa has been a popular destination for missionaries for centuries. Father Markić said the people in Zambia are used to foreign priests from all denominations being around, and therefore their presence isn't anything foreign for the local population.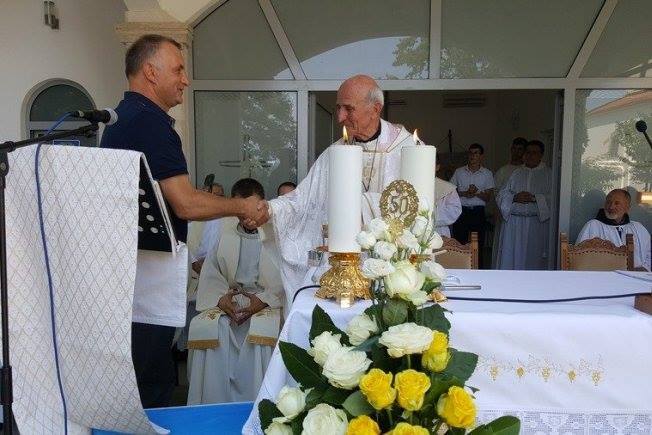 The people throughout the diocese and the different parishes were always very welcoming, he said. Special meals were prepared for the missionaries that, for the most part, included the best they had to offer. And in most cases, the meal of choice included succulent and deliciously prepared chicken. Warm water was always brought out before meals so that everyone could wash their hands before eating. And most importantly, everyone joins together to enjoy the meal as an extended family. This sense of community applies to every aspect of life in Zambia, from the smallest of parties to the biggest weddings.
"They live in a community. They don't have any parties or ceremonies that they celebrate individually. Everything they do, they do together as a community. If there's a wedding at a church - or somewhere else - everyone comes along and the community celebrates together. That's very important for them. This also goes for when boys and girls go through confirmation - this is a very big deal."
And while both sides, the locals and missionaries alike, have had to accommodate the traditions and ways of life of the other, it was never forced or done in a negative way. This was an important message that Father Markić wished to get across. And while there are adventures to be had around every corner during a missionary's life, said Father Markić, it's important to keep the focus on the greater goal and the big picture of doing God's work.
"My message to young missionaries is to never fear Christ's calling; just follow it. Yes, Jesus is demanding but he's with you at every step of the way. Don't be afraid. Young people are decisive and they have lots to give, but they need guidance and direction. It's just like in any stage of life. At the same time, the flame that burns inside missionaries, the so-called 'missionary spirit', is not about adventure. It's a serious calling."
Missionaries must also keep in mind that they are representing not only themselves but their communities and their churches, said Father Markić. And through prayer, anything is possible.
"We must pray for all those who we have come across and all those who we will come across in the future… And that's what brings us together and that's why we will never fail."